Ytring:
The criteria do not show a lot of trust in PhD candidates
The criteria for extension presented so far are very strict and do not show a lot of trust in or support to PhD candidates, writes Angelina Penner, leader for DION.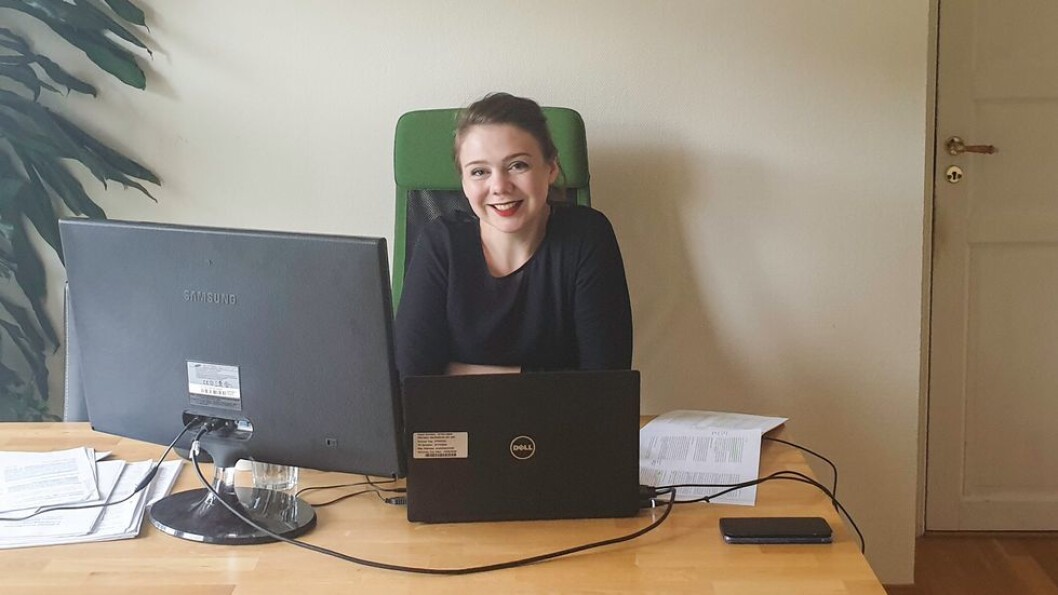 The text has been updated at 09.45 am, Wednesday April 22nd.
We are disappointed by the decision of the leadership to take this issue case-by-case. Yet, we are not surprised.
Signals have been sent for a while that a general extension for all PhD candidates will not be the solution adopted by NTNU and the other major universities in Norway. To a certain degree we understand that. Clear and fair criteria have been patiently awaited. Most PhD candidates had faith that there would be a positive outcome for most of us, but the criteria presented so far are very strict and do not show a lot of trust in or support to PhD candidates.
Additionally, post-docs and other temporarily employed staff have not been considered at all at the moment.
This provokes and deserves criticism.
At first glimpse, fairness and equality seem to be central to the argument by the leadership. However, it is not hard to spot that in practice, the guidelines are far from equitable.
Inequalities could worsen
If faculties and departments must pay for the expenses themselves, existing inequalities between faculties worsen. It is no secret and nothing new that some faculties are in a more advantageous financial situation than others. PhD candidates in those smaller departments and faculties should not be punished. The rector had promised support in cases of big discrepancies, but that is at this point a very vague and unclear statement.
As a next, immediate step, faculties are asked to map out how many candidates are affected and how many cases are expected. The assessment will be based on individual assessments, that candidates write themselves. They are supposed to work together with their supervisors to formulate this assessment. The deadlines are also rather short. Some departments are asked for these mappings by Friday, April 25.
Problems with individual applications
This is troublesome in many ways.
This self-assessment relies on a good relationship between supervisors and candidates. Many of those relationships are rather formal. Opening up to one's supervisor about the difficulties encountered while working from home might not feel natural to many candidates. It requires a high level of trust, that should ideally exist between supervisors and candidates but is very often lacking in practice. At DION, we know these challenges all too well as issues related to supervision are those we are most commonly contacted about
Therefore, we assume that many candidates end up assessing their situation by themselves with no or minimal support by their supervisors. We had already identified lack of support as an issue several candidates faced during the confinement. This additional hurdle is unlikely to help address this issue and further increase the workload put on individual candidates.
Besides the workload issue this represents, it might put some candidates into a very uncomfortable position. PhD candidates are high-achieving, driven researchers, passionate about their work. Struggling at work very easily translates into doubting oneself as a professional. Then, how would one assess whether their lack of productivity is linked to the current CoVid pandemic? We fear that many candidates won't apply out of a feeling of guilt and shame.
In order to prove one's deservingness, PhD candidates have been advised to reach out to the OHS at NTNU and/ or to their doctors. This implies that these services have the capacity to address and support this increase in requests for support and assessments. It is also pathologizing and most certainly feels uncomfortable to many, who eventually will refrain from seeking professional help and support.
Candidates are being asked to re-think their project and research plan. While this may be possible in certain cases, this is highly dependent on the type of research, its funding source and the particular stage of the project. Such changes may also involve delays as candidates and their supervisors will need time to identify alternative data, research path and collaboration. Even when that is possible, the question remains as to whether these articles will be published on time for submission and whether candidates may have to rethink their target journals. Therefore, some departments will have to reconsider how they assess a PhD thesis. 
Additional workload
In summary, the suggested solution creates additional workload and delays for PhD candidates with little guarantee to be given a fair hearing. It effectively pathologizes and individualizes structural problems, e.g. the inequalities between faculties, issues concerning supervision and the way academic work is being assessed. All of those issues have been present for a while but have been exacerbated and become more visible through the effects of CoVid 19.
The case-by-case assessment can have two outcomes: In the first case, there will be a flood of applications, leading to a massive bureaucratic overload. Under this scenario, cases risk being categorized as "worthy" and "underserving" in an almost automatic and (in the worst case) random fashion.
The alternative scenario is that candidates do not apply because of feelings of shame or guilt; of poor relations with their supervisors; or because they are already under pressure and feel they can't afford to take time for this. In this case, the situation might not seem that bad, but the picture would be highly skewed with potentially serious effect on the number of uncompleted PhDs.
Risk of dropping out
As NTNU is obviously concerned about the financial repercussions of this situation, they might have overlooked a very important point: PhD candidates are only insofar lucrative for the university if they publish in (high ranking) journals and if they finish. With the current solution, many PhD candidates might feel so stressed about not meeting their deadlines and competing priorities that they may reconsider their future careers in academia. A higher rate of PhDs dropping out is a very real risk, which will ultimately cost NTNU.
What DION wants PhD candidates to understand is that we are not powerless in this situation. We have strength in numbers. By working as a united group - from the department level to the university level - we can voice our position and express our concerns and demands more clearly and effectively.
DION will continue to monitor the situation closely and will help relaying the concerns of PhD candidates but also post-docs and temporary scientific employees at the university level.